What Are Prop Firms?
If you are a Forex trader, you know how difficult it is to make a fortune from a small account. The agonizing pain of growing a $100 account to $500 and then getting wiped out to $300 or even lower can be demoralizing. As we conduct this True Forex Funds review, we will show you the benefits of prop trade funding.
You can pay a small fee and get access to a huge capital of up to $400,000 in prop trade funds. We both agree that even getting 50% of the profits such an account makes is a huge step in any trading career.
True Forex Funds, a Hungary-based investment firm, claims that it helps you grow your trading skills. This, according to them, helps you become a consistent and profitable trader.
Characteristics Of True Forex Funds Trading
Great Trading Conditions: This prop firm offers trading at low spreads of up to 0.0 pips.
Fair Trading Targets: They make it clear as a day that you only need to reach their targets to stop trading in a week. You can also withdraw your earnings twice a week. True Forex Funds is not clear about the targets given to traders on their website.
Initial Fee Paid Once: You can have as many retries as possible. This comes with a limitation of not violating their terms i.e., loss limits terms.
| | | | | | |
| --- | --- | --- | --- | --- | --- |
| Account Type | $10,000 | $25,000 | $50,000 | $100,000 | $200,000 |
| Minimum Trading Days | X | X | X | X | X |
| Phase 1 | 30 days | 30 days | 30 days | 30 days | 30 days |
| Phase 2 | 60 days | 60 days | 60 days | 60 days | 60 days |
| Max Daily Loss | $500 | $1,250 | $2,500 | $5,000 | $10,000 |
| Max Overall Loss | $1,000 | $2,500 | $5,000 | $10,000 | $20,000 |
| Profit Target 1 | $800 | $2,000 | $4,000 | $8,000 | $16,000 |
| Profit Target 2 | $400 | $1,000 | $2,000 | $4,000 | $8,000 |
| Monthly Fee | X | X | X | X | X |
| Refundable Fee | €89 | €189 | €299 | €499 | €998 |
True Forex Funds Account Type
Our True Forex Funds Review Process
True Forex Funds Being new to the game, it was always a great idea to first test them out. Before Fintrex FX came out with the decision to write this article, we had some serious checks.
The prop firm offers trading of crypto even during the weekends, so we had to make sure they are competent every day.
What We Looked Out For
Made sure their support team responded fast and was kind.
Went across all their social media for traders' reviews.
Signed up for quite a number of accounts across all days of the week.
Put trades when market volatility was at its peak.
Tried withdrawing multiple times in a week.
What We Found Out
Withdrawals went smoothly even after the constant withdrawal requests.
Customer care responded swiftly.
They paid out large amounts of capital without delays i.e., 5 and 6-figure payments.
This analysis was purely based on our first-hand experience using the firm. However, this experience may change with time. If you find any changes to what is stated above, you can always contact us for an update. This will keep the public in the know.
Comparison Of True Forex Funds With Other Prop Firms
The cost of the program is a bit higher than other programs out there. The advantage comes in whereby they refund you the evaluation fee on the first payment.
Their profit split is similar to other prop firms (80%). Other prop firms have a higher profit split than this ratio.
Merits Of True Forex Funds
Evaluation fee refund: This comes as a surprise to many as the first withdrawal earns you back your initial investment. This is not a common occurrence with other firms.
Trading during the weekend: The prop firm gives you the advantage of being able to trade during weekends. You can however only trade cryptocurrency during this time.
Low-profit targets: There are two phases that offer different profit targets. For the first phase, you get to have a target of 8% of your capital. For phase two, you get to have a target of 4% of your capital.
Trading strategy freedom: True Forex Funds permits a trader to use any strategy. This is an advantage as it allows different traders to jump on board.
Fair drawdown policy: Both phases provide the same drawdown policies. The maximum loss permitted is 10% of the account. The maximum loss permitted per day is 5% of the account.
Long position traders' advantage: The prop firm allows its traders to hold trades during the weekends as long as the trades do not violate their policies.
Multiple instruments to trade: They offer quite a wide range of instruments one can trade. These are forex pairs, futures, commodities, cryptos, energies, indices, oil, bonds, and metals.
Quick support: Their customer care is always helpful and fast in replies.
Additional funds increase: As long as you meet their target profit of 8% in 3 months you qualify for a 25% increase in your trading capital.
Handling of world events: Despite the ongoing world events, True Forex Funds managed to uphold their end of the bargain. Managing to be productive in times of crisis like wars proves just how serious this new company is.
Getting Started With True Forex Funds
The True Forex Funds sign-up process is pretty much straightforward. One can create an account from anywhere in the world. This is an advantage as no countries are disallowed on their platform.
It is worth noting that there are no promo codes or discount codes during the sign-up process. We believe this comes as a result of the return of the evaluation fee. It's still a win-win situation.
The payment process can be completed by either using credit or debit cards. Their payment processing is mainly done by either Stripe or Crypto-currency. Only after payment will you be able to get access to the evaluation dashboard.
From the left dashboard panel, you will be able to access the trading objectives, daily summary, and trades completed. You will be able to see a full summary of your account on the right panel.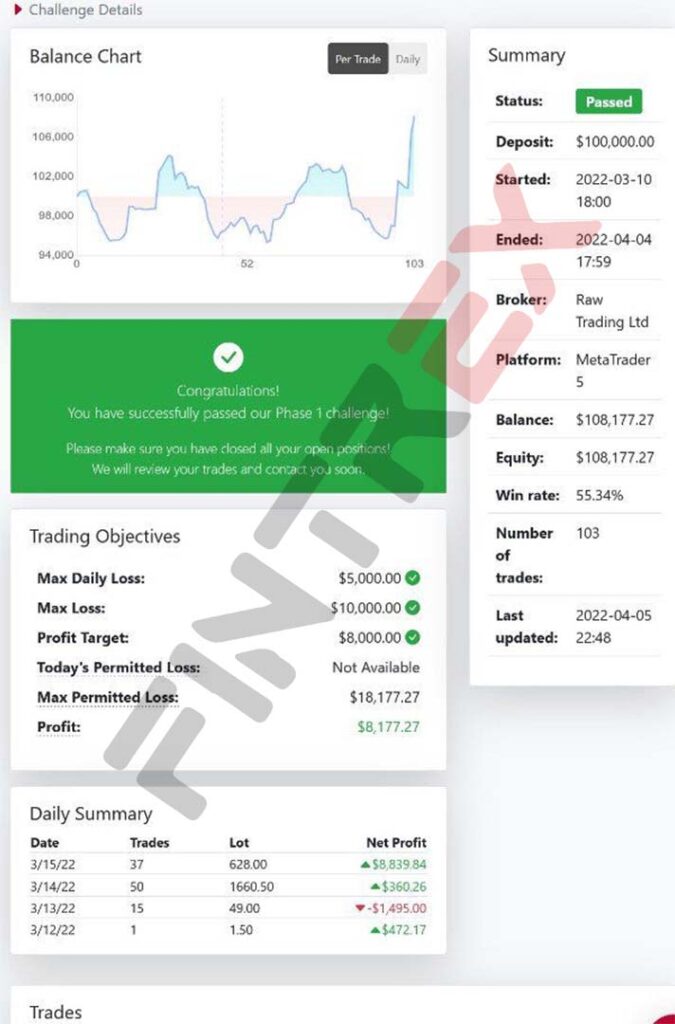 Dashboard Features
Trading log
Performance chart
Trading objectives categorized by the day
The platform credentials
A daily summary of the account
Once you pass the phase one test a review of the account will be done by the company. You will receive a "Passed" notification and be moved to the next phase (phase two or the live account).
Instruments Offered By The Firm
Forex market
Indices
Cryptocurrency
Futures
Commodities
Shares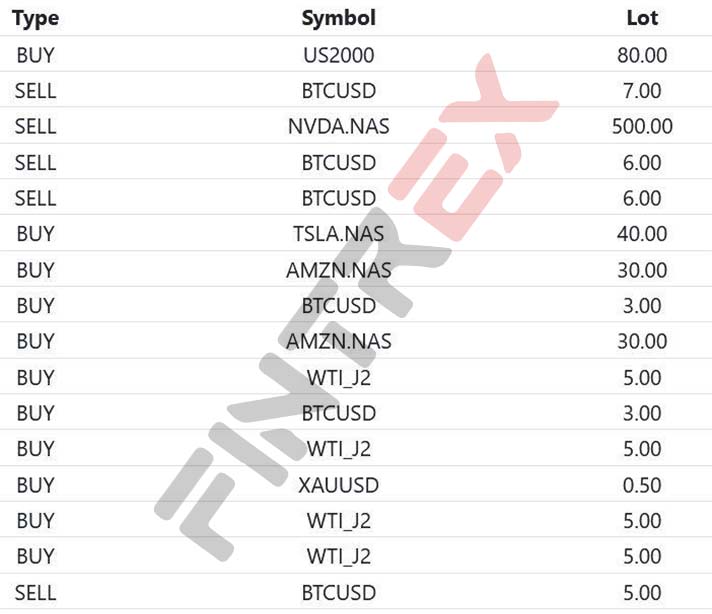 There was no slippage while we placed trades on all three phases. This was a very good sign considering that the company is still new in the market.
True Forex Funds claim that they are the best in currency trading. They are working to improve trading conditions for currency traders.
Below is an announcement that was made by the company;
Most probably from the 9th Monday, the newly issued accounts will receive truly raw forex spreads through TFF's new bridge.
On most of the major pairs, you will be able to open positions from 0.0 pips. The main goal was to recreate the well-loved IC Markets conditions. On a few symbols, we even get above them and we are really happy about that. Helping traders is our main interest because we are able to reach new highs if our traders are profitable, therefore providing the best conditions is inevitable.
We do not have short-term plans for improving other symbols right now because, starting Monday, our IT team will focus only on the new design and features. including but not limited to:
Leaderboard
Detailed statistics on your trading performance
Funded traders KYC
Automated withdrawal request
Automated certificates
The above-mentioned features and the design are our IT team's main priorities right now. We really hope you will be satisfied with the new forex spreads. Please keep in mind that only the newly issued accounts will be able to trade on the new bridge, for example, if you pass Phase 1 or receive your funded account, etc. It is technically not possible to change the spreads on the current symbols because it's a different bridge. Please see the attached picture of a few of the most likely traded pairs. We can promise that you won't be disappointed with any other forex pairs as well. Have a great weekend!
BONUS:
Choosing a broker is very important for your trading career, which is why I recommend Super Forex. This is a broker that I have used for the past 4 years. Create an account now by clicking here.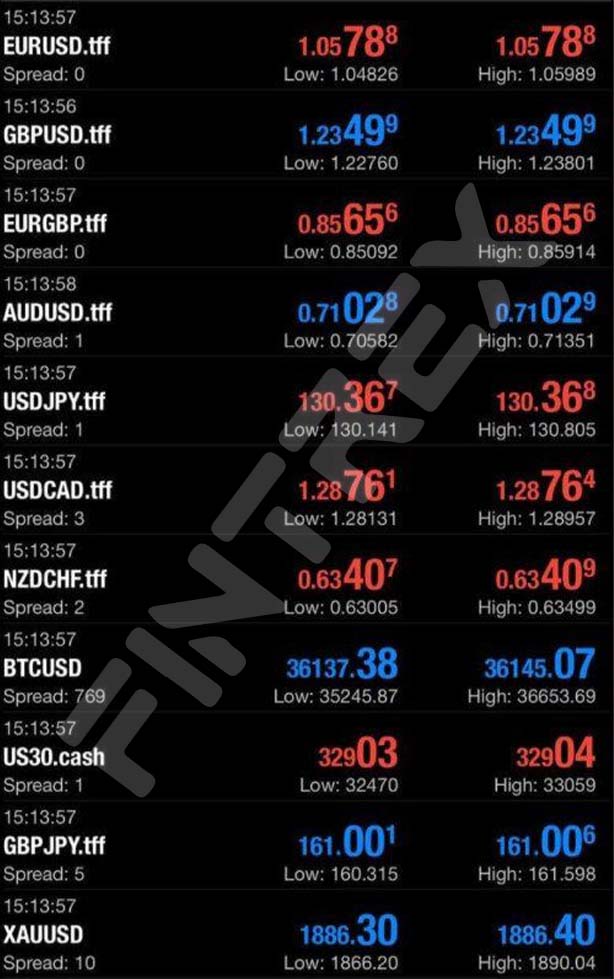 All the advantages we have mentioned throughout this article make True Forex Funds the go-to place for many.
But one can only be pleased if at all you are able to get the money that you work for.

True Forex Funds Payouts
As we mentioned earlier, traders are paid 80% of what they earn. The profit is credited bimonthly, meaning every 2 weeks.
The most common method of payment at True Forex Funds is through the DEEL payment method. Withdrawals through this method are found to be the most common and simple for every trader.
Other Payment Methods
This does not mean that there are no other payment methods. The other payment methods are also very convenient to use. We found out that withdrawals rarely delay and are on time in most cases.
There was a scenario where we found a trader by the name of Cody on their Discord who had a big payday. This was one of the biggest withdrawals at the time we were conducting this True Forex Funds review. Cody managed to get lucky with his trades, bagging a cool $180,000 in the process.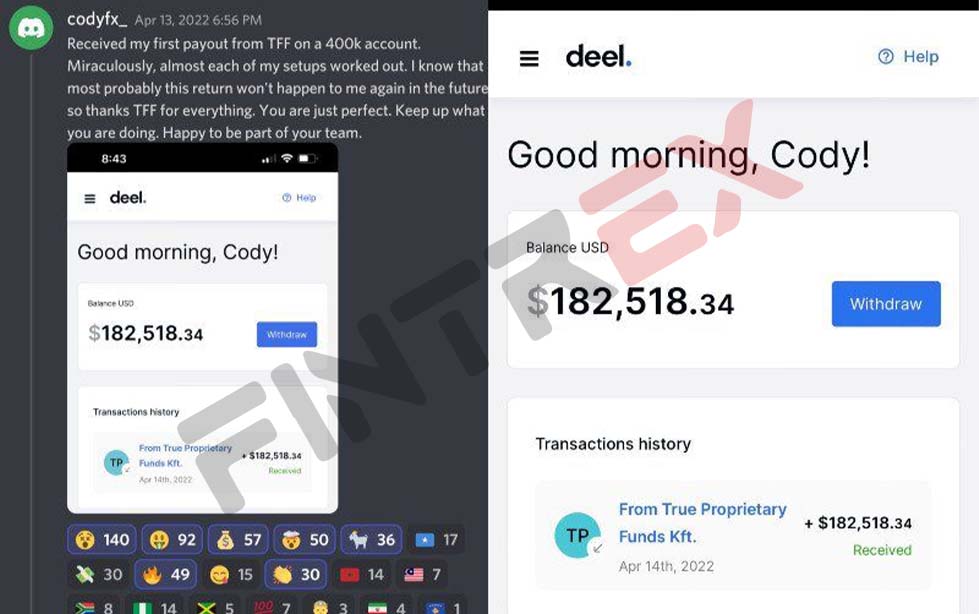 Their discord is available to their partners, and it contains multiple success stories.
Now we head over to the most crucial part of the article. Is it worth investing in True Forex Funds?
True Forex Funds Review
True Forex Funds Facebook Review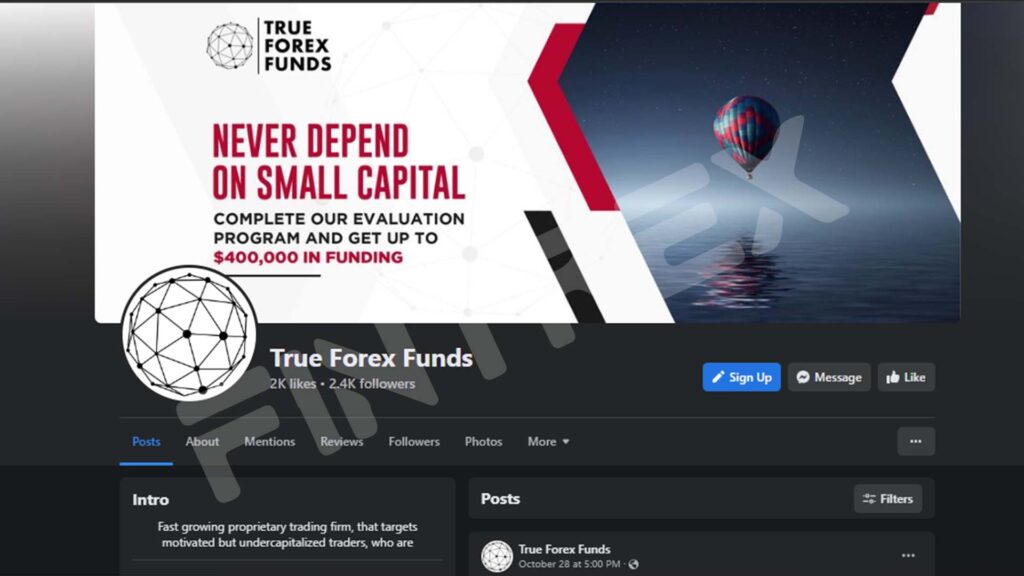 Firstly, we acknowledged that True Forex Funds do a good job keeping the Facebook account active. They manage to keep their members up-to-date constantly.
True Forex Funds currently has a rating of 5 out of 5 on Facebook. It does not have a big following yet, currently boasting 2,000 likes and 2,400 followers on its Facebook page as of the time this review was done.
In our eyes, the reviews left by the Facebook accounts seemed to have been scripted. You can find out more for yourself if the True Forex Funds Facebook reviews are legitimate.
True Forex Funds Instagram Review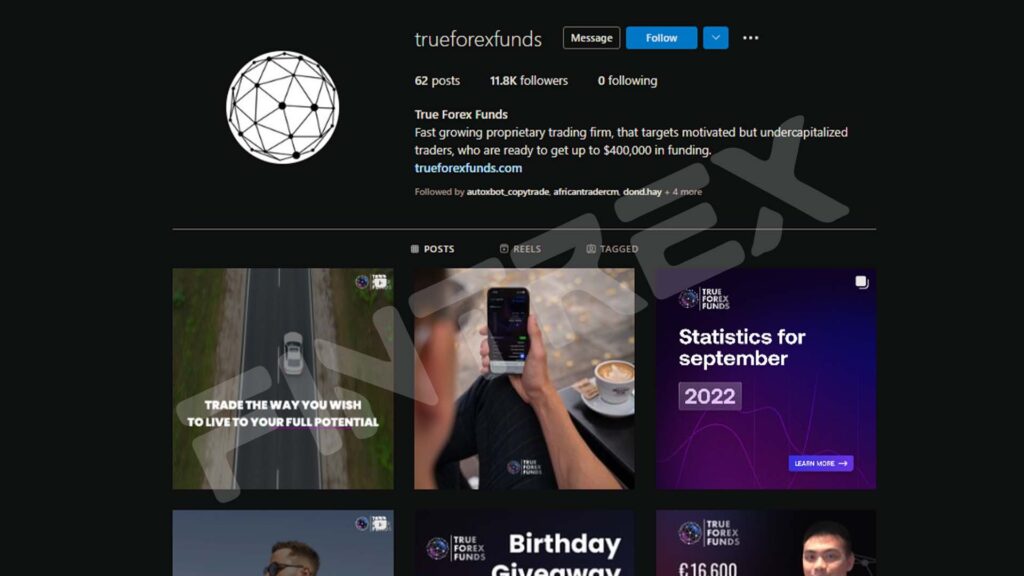 They manage to keep their Instagram as active as their Facebook. However, most of the posts on their Instagram Page are similar to their Facebook posts.
They have a number of Instagram reels that display their payouts, questions, and answers, as well as their YouTube videos.
Their posts' engagement is good. You might even say it was better than expected in contrast to their following. If this raises a concern for you, make sure to check them out yourself.
True Forex Funds Twitter Review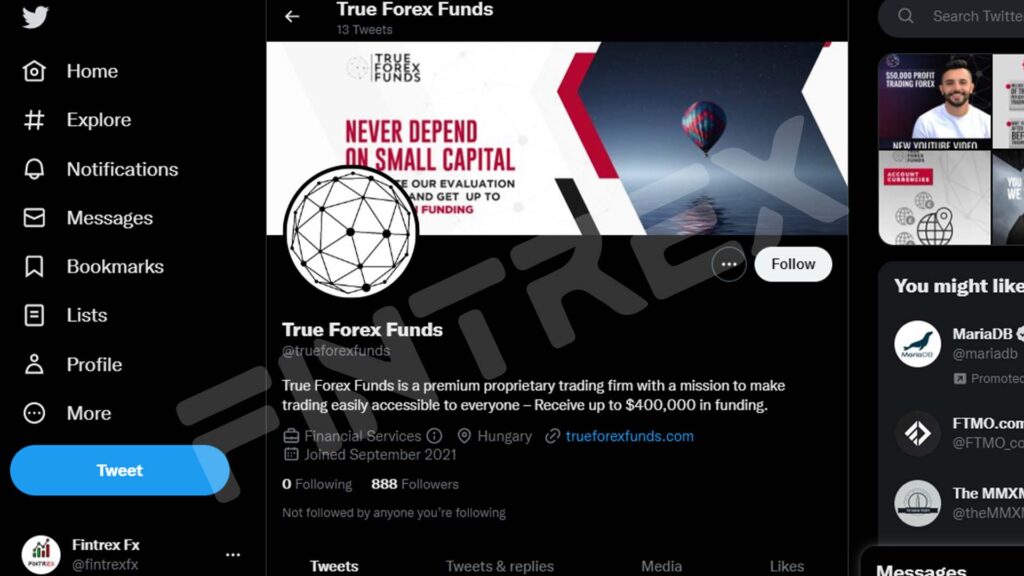 Their Twitter Profile is not as active as their Instagram and Facebook accounts. The prop firm started the Twitter account in September back in 2021. True Forex Funds Twitter page has a following of fewer than 500 members.
Most of their tweets are about their company in the form of promotions and announcements.
True Forex Funds Trustpilot Review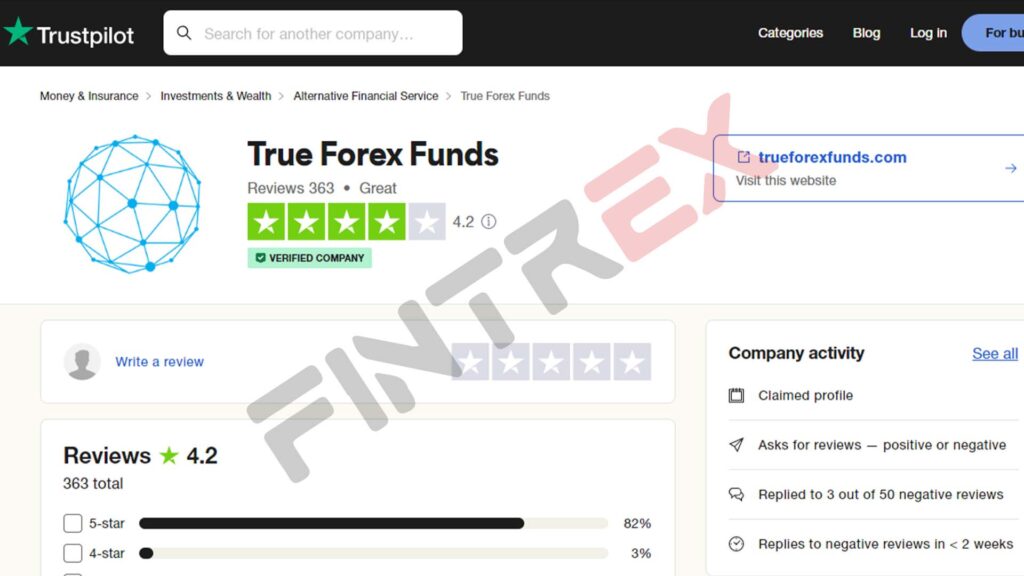 Trustpilot is always a good place to start to distinguish between scams and legitimate companies. Their review on Trustpilot is excellent, which shows their trustworthiness and reliability.
Based on Trustpilot's review of True Forex Funds, we can confirm that they have a strong reputation to uphold. Trustpilot claims that the company is verified as having a star rating of 4.5 out of 5.
Frequently Asked Questions (FAQ)
1. How long does it take to become a funded trader under True Forex Funds?
That depends on your trading skills and how fast you will be able to pass their tests.
2. Are True Forex Funds legitimate?
They have a good reputation, and they make payments to their traders, so for now we can say they are legit.
3. How can I withdraw from True Forex Funds?
You can withdraw through Deel, Bank transfer, or Cryptocurrency. Deel is the most commonly used withdrawal method.
4. Can I open more than one account on True Forex Funds?
No, only one account is permitted per person.
5. How long does a withdrawal take on True Forex Funds?
Payment is issued 14 days after you place the first trade on your funded account.
6. How much will I get charged for withdrawals on True Forex Funds?
There are no charges for withdrawals, the same as for deposits.
Conclusion
Based on this True Forex Funds review, we have found it to be a legitimate proprietary firm. Not only do they offer a massive advantage to traders, but they have a great team. Their withdrawal time is decent, and their social media keeps everyone updated. They are worth giving a try. We look forward to working more with them and trying to get that big withdrawal every once in a while.